Prize draw #2 is over

The competition was posted on my Wafuku Blog
The winner is Julia March, London, UK
Thank you to everyone who entered and I hope you enjoyed browsing through my website to find the answers to the competition. There were entries from all over the world, all of whom had an equal chance of winning. The winner was picked by numbering each correct entry received then using the random number generator at psychosience.org to select the winner.
Julia could choose one of the two garments shown in the photo below; a woman's black, ro silk kimono or a man's black, ro silk haori kimono jacket with mon (crests); she chose the woman's kimono
Both prize garments are made of black, pure silk; a lightweight, airy weave called ro silk. They are hitoe garments; hitoe means unlined, which is to keep the wearer cooler on hot days. Although the woman's kimono shown above may look slightly grey, it is a lovely dense black.
Kimonos are pretty much one size garments.
Women's kimono:
Sleeve end to sleeve end 126cm, sleeve seam to sleeve seam 61cm, length 148cm.
Men's haori:
Sleeve end to sleeve end 130cm, sleeve seam to sleeve seam 65cm, length 108cm.
Kimonos have a wrap over front, so size is adjusted that way. Haori kimono jackets do not overlap at the front and do not require a sash/obi.
---
---

The winner of Prize Draw #1 was...

** L. Maarten, from Addlestone, Surrey, UK **

The winner was picked by giving each buyer a number, then using a random number generator to pick the winning number. I used the number generator at http://www.psychicscience.org/random.aspx to select the winner


The prize was a woman's, pure ro silk, formal, black tomesode kimono with mon (crests)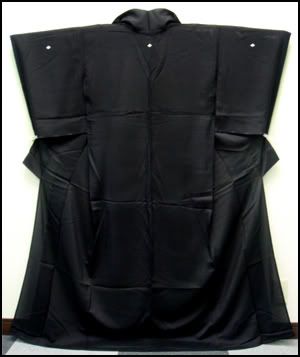 Photos of the prize can be seen below. Although the kimono may look rather shaded in some photos, it is actually a lovely, even, dense black. Click the thumbnail images to see enlargements, which will open in new windows.
Ro silk is a light, slightly sheer silk, with a banded appearance to the weave; woven to be airy and keep one cool outdoors in summer. The mon (crests) are tachibana (citrus/mandarin orange). They are rather unsual in that diamond form, making it a more sought after kimono.
It is a very elegant, simple and demurely sexy kimono.
Being unpatterned, it can be adjusted to length the traditional Japanese way, with a fold over at the waist, or simply hemmed to length. Ro silk kimono are very comfortable and easy to wear.

A classic kimono to keep for yourself or ideal as a gift for a woman of any age

Measurements
Length 160cm
Sleeve end to sleeve end 129cm
Sleeve seam to sleeve seam 65cm
Weight 0.8 kilo

Photos: Click each small image below to see an enlargement, which opens in a new window, leaving this one open